The Leading Platform To Grow Conversions On New & High Intent Channels
Take your brand across marketplaces with
Ritelo's retail media platform
What Is Ritelo's Retail Media For Advertisers?
Retail media technology enables advertisers to reach shoppers on e-commerce marketplaces,
apps and websites when they are browsing for products online
Showcase Your Brand At The Top With Ritelo
Leverage Sponsored Brand & Sponsored Product Ads
Take your brand across multiple marketplaces from one dashboard.
Grow brand awareness with sponsored brand ads and increase conversions with sponsored product ads
Why Ritelo For Your Brand
Capture the attention with immersive brand and product recommendations to consumers.
Ritelo's highly fast and scalable platform ensure the customers get to see your brand first.
Get Insights For Your Campaigns
Get drill-down insights at your fingertips. Easily schedule reports to get periodic updates. Conversions, Sales, Spends, ROI and more - get access to the top metrics with Ritelo's smart dashboards.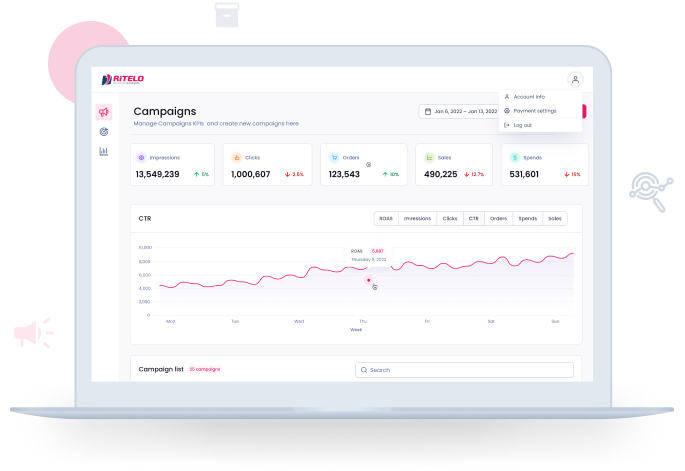 Go Dynamic With
Complete Control
On Campaign Set Up
Configure brand ads to boost brand awareness or run sponsored product ads to grow conversions. Enable your ads across one or many market-places from a single platform
Target Across E-commerce Pages With Strategies
Target customers on product pages or category pages. Set bids, add creatives, target specific pages and manage it all easily from one platform.
Manage Products & Brand Guidelines Easily
Set and manage your brand guidelines easily with Ritelo's brand management module. Approve or reject creatives to ensure brand guideline compliance